How to Do SEO for Business [Organic Traffic-Oriented Approach]
Each and every business is always raising this question during a meeting. How to Do SEO for Business?With the rise of online technologies, marketing has seen a big shift from the word of mouth to the word of Google. Today, the engine is the first place where most people go to learn about products of their interest.
If you still heavily rely on cold calls and distribution of business cards as your main marketing weapons, things should change. Without an up and running site, your business will lose a lot of exposure.
However, having a site doesn't guarantee you a steady flow of visitors from Google. According to the study of 1 billion pages, nearly 91% of them get no visits at all. The question is how to get your content to the remaining 9% to make sure it pays off. That's when SEO for business comes into play.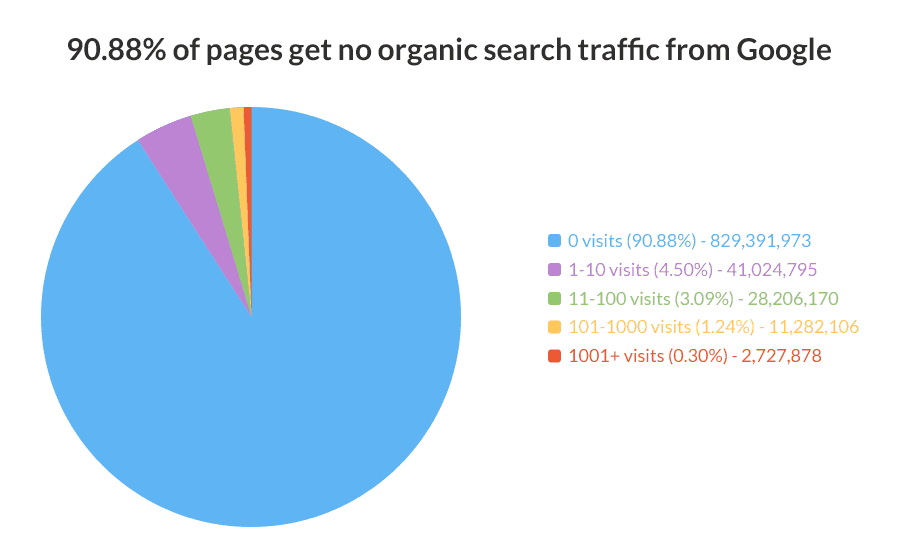 There are two reasons why your site may attract no visitors – they just don't search for your content or Google treats it as an unreliable source. That's why SEO for business must be based on two major pillars – keyword research and link building. Keywords tell the engine what your content is about, while backlinks prove its quality. Check out this two-part guide to understand how to pick keywords and earn links for your business.
Here's How to Do SEO for Business
Part 1. User-Centric Keyword Research
With the help of keywords, Google learns if your content coincides with real users' queries. If they don't use any relevant queries, there's nothing to rank your posts for. First and foremost, you should analyze what problems your potential customers face and adjust your content to them.
1. Choose problem-oriented business keywords
Let's say you run an accounting firm. Think of all the paperwork entrepreneurs have to do on their own, without an accountant. Naturally, they search for guidance on how to ease the job. That's why the how-to keyword formula will work best for you:
how to manage your finances;
how to do bookkeeping the right way;
how to avoid accounting mistakes, etc.
You can go even further and come up with keywords based on each task you can perform:
how to reduce tax bills;
how to make timely payments;
how to calculate employee payroll, etc.
Once the list of your probable keywords is ready, check if they correspond to real user's queries. You can see them in the search field while typing and then at the bottom of SERP. That way, you'll also be able to expand the list with more keyword ideas.

2. Make your business keywords specific
If you run a startup or a small company, broad terms like "accounting services" won't get you anywhere in SERP. The top positions for them already belong to your market giants that have built a perfect reputation and, most importantly, a solid backlink profile. You won't sidestep them and take their place until you become just as powerful.
To show up in SERP, you must expand broad terms into more specific keywords. For example, you can add your target audience, firm location, cost, etc.
| | |
| --- | --- |
| Modifier | Keyword Example |
| Target Audience | accounting services for small businesses, student accounting services, accounting services for nonprofits, personal accounting services |
| Niche | real estate accounting services, medical accounting services, forensic accounting services, church accounting services |
| Type | cloud accounting services, virtual accounting services, remote accounting services, monthly accounting services |
| Quality | professional accounting services, accurate accounting services, best online accounting services |
| Location | accounting services Singapore, Virginia accounting services, accounting services Los Angeles |
| Specific Task | tax accounting services, payroll accounting services |
| Payment | affordable accounting services, prepaid services accounting, cheap accounting |
To achieve a higher level of specificity, try to include several modifiers to a single keyword. For example, you can mention both your target audience and location – "accounting services for startups in Denver."
Specific phrases like this are called long-tail keywords. They usually get no more than a hundred monthly searches, while broad terms can reach thousands or even tens of thousands of searches per month (!).
But don't let such a huge contrast in their search volume mislead you. When users google the same piece of information, their wording often differs, while the search intent remains the same. Google has become so smart with the rollout of RankBrain that it understands the intent behind each query. And the user's query and wording in search results don't have to coincide 100%.
While processing users' queries, Google ignores articles, pronouns, conjunctions, prepositions, word form, order, etc. These are all minor things for SEO and can hardly change the intent behind the original query.
For the query "how to decrease a tax bill," Google returns results with "reduce" and "lower" instead of "decrease." It also understands that "X ways to" is equal to "how to." That's how independent of word-for-word matches the engine is today.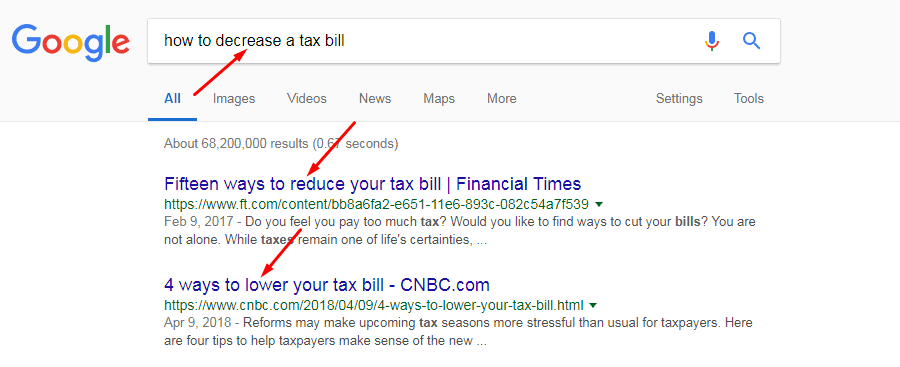 3. Analyze other keyword metrics, besides search volume
Keyword research isn't based on search volume only. The fact that users google your business keywords doesn't mean they will click to your site eventually. So, you'll need to analyze more metrics to find out if your target keyword will prove its value. Here they are.
Clicks. This metric shows how many searches can convert into clicks. Note that some keywords get minimum clicks even when the content ranks in the Top 10. For example, 87% of searches remain unclicked for the query "dollar rate."

It happens because Google displays a currency converter at the top of SERP. As users see the necessary info straight away, they don't need to click through search results.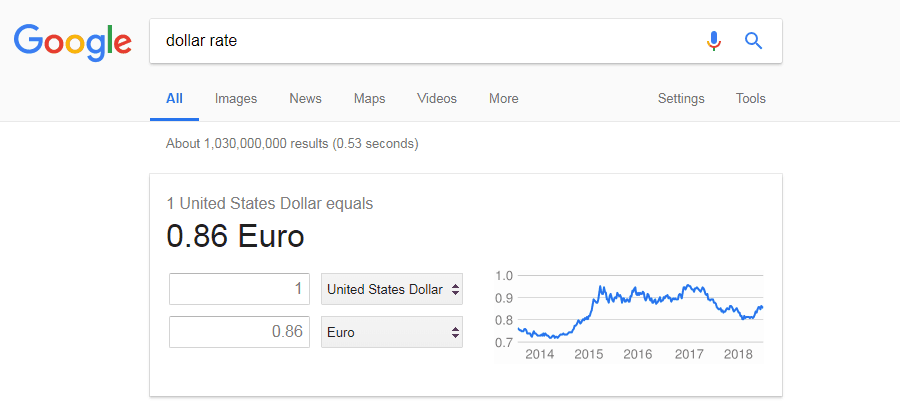 So, make sure your business keywords don't get an immediate answer in SERP. Otherwise, your site will have minimum visits, if any.
Difficulty. With this metric, you'll learn if it's difficult or easy to rank for your business keyword. The lower the difficulty score, the fewer backlinks you'll need to get to the Top 10.

Seasonality. This metric shows for how long your business keyword gets searches throughout the year. If you run a seasonal business like a Halloween store, people will google for your products during high season only. When it's over, the search volume will drop and won't rise until the next high season.

To check your business keyword seasonality, use Google Trends. This is an absolutely free tool that you can use right from your browser.
4. Optimize your business content for competitors' keywords
SEO for business involves spying on your competitors. They can actually work in your favor, no matter how weird it sounds. Most of them have already identified profitable keywords related to your business and generate a good portion of organic traffic every month. You can optimize your content for their keywords, preferably easy-to-rank terms, and steal some of their traffic.
To see their keyword strategies, use competitor research tools. With their help, you can analyze competitors' organic keywords and their crucial metrics, i.e. search volume, difficulty, position the page takes for each keyword in SERP, etc.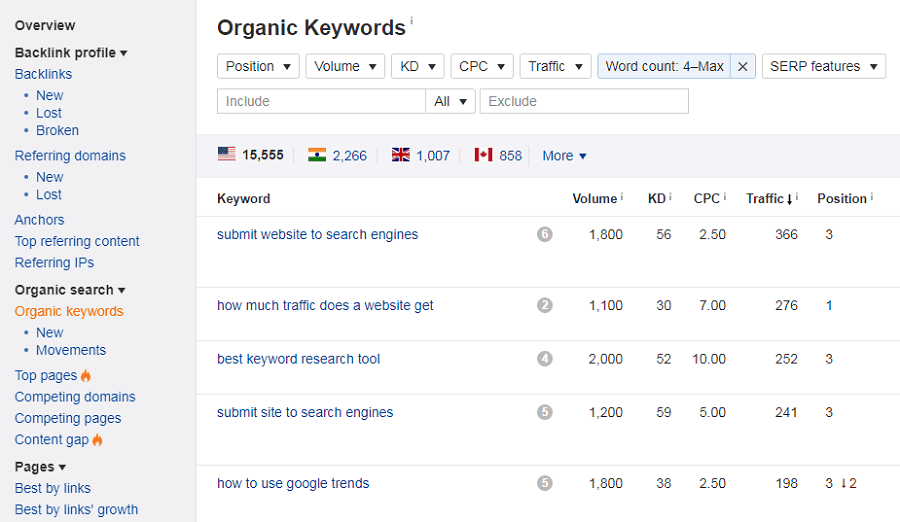 5. Find keywords that none of your competitors have used yet
Imitating competitors isn't enough to build a recognizable brand. Unless you offer unique value to your target audience, they won't bookmark your site to visit it over and over again.
So, how can you identify topics that haven't appeared on countless blogs in your niche? The best way is to check what people ask on forums, social media groups, and sites like Reddit and Quora.
When they complain about the same problem in many places, most likely Google gives them no solution. This is your chance to be the first who covers that topic in detail. Not only will you drive some quality traffic, but will also show yourself as a brainy guy in your niche and earn backlinks along the way. That's what the second part of this guide is about.
Part 2. Legitimate Link Building
While creating SEO-friendly content is a must, it's not enough for Google. You must prove its worth. Here's the logic behind Google's algorithm. If other sites link to your content, it provides enormous value and therefore deserves appearing in the Top 10. So, the more links point to your site, the more credible it'll look to the engine, the more chances you'll have to outrank competitors.
Due to countless abuses, Google has become strict about the whole link building thing. For example, if you purchase backlinks in bulk and Google learns about this shady tactic, your site will be banned from organic search. It will take you a lot of time and work to fix things. Instead of taking such a big risk, follow these strategies to earn backlinks legitimately.
1. Produce link bait content
This type of content can attract links with little to no involvement from you. People will refer to your resource because it will make their own content better – either prove their viewpoint or add more info to explore. Link bait content can take different forms:
market research, surveys, case studies;
freebies, either a totally free product or at least a free starter plan with limited functionality;
infographics, charts that visualize research findings, pictures with smart quotes, etc.
Note that each business niche has its own most linked-to type of content. Studies work best for marketing, while in design people mainly link to compilations of cool tools, fonts, page layouts, etc.
So, you should always check what posts earn most backlinks on competitors' sites. You can do it with backlink checkers, either free or paid.
2. Engage with industry influencers
Getting links from industry influencers is a big plus for your website's SEO. As a rule, they own sites with a high domain rating, which will pass quality link juice to yours. Moreover, a link to your resource will get in front of their followers, who will discover your business and may want to refer to it too. Here are common ways to engage with influencers:
interview them on your site;
quote them in your articles (with link attribution);
create a roundup of their tips and opinions.
3. Participate in interviews yourself
Don't stay in the shadows, giving all the glory to influencers. Become an interviewee yourself to build a reputation as an expert, let alone a bunch of backlinks. You can share your know-how in different formats, including blog interviews, podcasts, webinars, roundups, etc.
4. Fix broken links on third-party domains
In the course of time, either entire sites shut down or separate pages go to trash, and links to them become broken. You can turn this situation to your advantage. Contact their owners and offer them your live content instead of something that doesn't exist anymore. This tactic will make sense to them too – you'll fill in the holes in their link profiles.
5. Submit your content to guest blogs
Guest posting is an efficient way to earn backlinks and spread the word about your business. For example, if you write a guide, you can refer to your product as a tool that can make one of the steps easier.
When choosing guest blogs, keep in mind two criteria – their domain rating (DR) and organic traffic. That way, you will make sure backlinks from them will bring you both SEO value and readers who may become your customers eventually.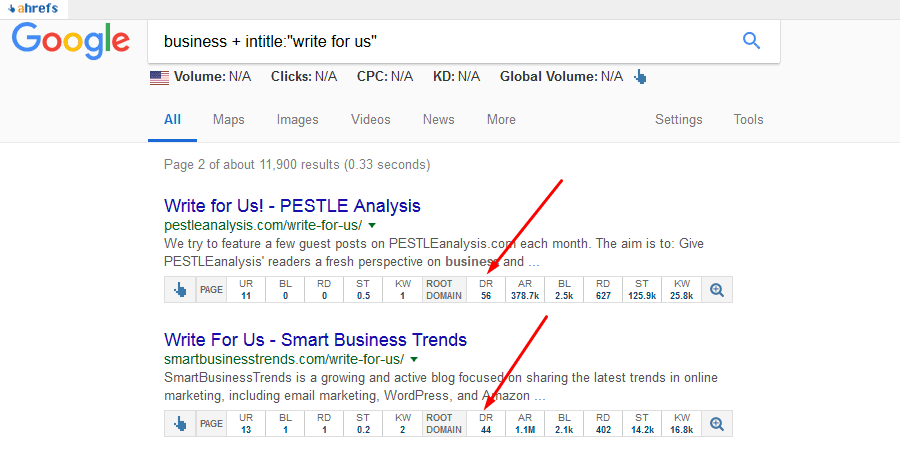 There are many ways to find sites accepting guest posts. You can join special groups on social media, use Google search operators like intitle:"write for us" or even use special plugins for them depending on your browser.
Content syndication means republishing your live articles on sites like Medium and GrowthHackers. There's no need to write a new article from scratch – just re-publish it as is with link attribution to your site as a source. With this approach, you'll reach a wide audience in the shortest time possible.
7. Create content in different formats
Different people prefer to grasp the information in different formats. So, write texts for readers, record podcasts for listeners, and create slideshows and webinars for watchers. The more formats you use, the more people you'll engage with your content.
8. Get your site featured in directories
Google evaluates not only the number of backlinks but also their quality. It means you can't get links from every domain available, especially in the case of directories. Low-quality directories will only affect SEO for business. Check a few things to make sure the directory is worth your time:
it contains sites of decent quality;
it's been out there for some time;
its backlink profile isn't spammy;
submissions go through the human revision.
9. Write press releases
Make sure you don't go too far with this strategy. If you distribute press releases to multiple channels, Google may suspect you of manipulations. Also, note that branded anchors will work better in this case than anchors with partial or exact match keywords.
10. Get links from news sites
As news resources have a high domain rating, they can strengthen your backlink profile. A proven way to get featured there with link attribution is newsjacking. This is a practice of merging your business into the hot news.
When some story hits the headlines, reporters are always on the lookout for opinions and new details. If you publish a controversial post on that topic and get on their radar, your business will get a linked-to mention in an authoritative resource.
11. Look for existing backlink opportunities
Finding new backlink opportunities is not the alpha and omega of a successful link building campaign. You can also check if some opportunities already exist and waiting for your actions. Here are typical scenarios when it happens and how to fix this.
If someone links to your 404 page, redirect it to any relevant live page on your site. That way, you'll recover link juice you've been missing.
If your copyrighted content appears without your consent, better ask for attribution instead of removal.
If you find unlinked business mentions, ask website owners about a possibility of link attribution.
There are many tools to find email addresses of bloggers who post unlinked mentions. What's cool is that you can also discover emails of your customers who buy your product and review it on Amazon.
Afterword
These keyword and backlink strategies go far more than just improving the traffic potential of your business site. They can also help you make a name for yourself in your niche and, most importantly, interact with your target audience.
The best thing is that it takes no rocket science to do SEO for business on your own. But if you are too busy, you can also contact SEO HERO. Professional SEOs will take good care of your online visibility.
About the Author
Nick Campbell is a content marketer passionate about technology, SEO, and blogging trends. When Nick is not researching a new topic, he's probably at some tech event.