Let's see why Why SEO Services Are Important
In the current digital world, competition for exposure online and clients is getting stiffer by the day. It would be best if you had a robust search engine optimisation plan.
SEO Hero is best known for providing stellar SEO services to businesses in Hong Kong. We apply the Google recommended SEO practices as well as monitor the results to know which strategies are working and which ones we should omit.
Today, we look at the 15 primary reasons professional SEO services are essential to your business here in Hong Kong.
Get Listed in Google's First Page
Backlinko team recently analyzed 5 million Google organic search results and found that sites on the first page are ten times more likely to click than a website listed on page 10. There are hundreds of other studies that have proved that most people who rely on Google as their primary source of information don't bother to go beyond the first page results.
The best SEO services in Hong Kong will ensure that your brand is always visible to the target customers by making sure the site is listed on the first page.
Regular SEO Algorithms
Google is very secretive about the SEO algorithm they use to rank sites. What we do know is that hundreds of factors are considered by Google bots when sites are being listed. The algorithm is regularly updated in a bid to provide the most accurate results to users.
Below is a pie chart showing the weight of different factors Google uses to rank websites.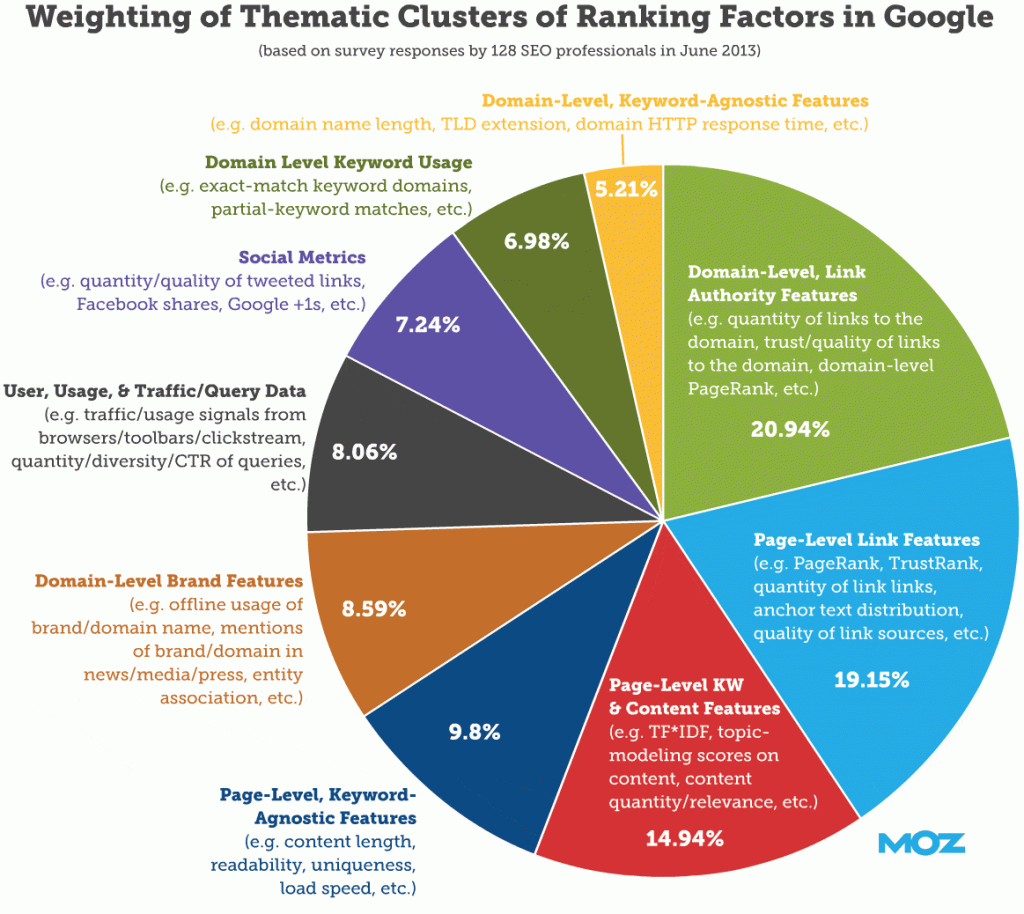 Source: MOZ
As a business owner, it may not be possible to keep track of all the SEO algorithm changes due to your busy schedule. If you fall behind, your site will be overtaken by your competitors, and consequently, you will lose customers and visibility in SERPs.
You can avoid this by hiring a reputable SEO agency, SEO Hero, to handle all your business SEO needs. The personnel are always abreast of algorithm changes and are more capable of implementing the necessary changes before your competitors.
Gain More Online Visibility
It's no secret that the success of your business is dependent on its visibility online. SEO is your best bet when it comes to gaining online visibility irrespective of the nature of your business. If you want to be considered a leader and authority in your niche, you need to be easily found online based on the user's search intent and keywords.
The provision of SEO services entails thorough keyword research to determine the user's search intent. These keywords are then wisely incorporate into the website content to ensure the pages pop-up whenever someone uses the keywords. Concisely, SEO is the backbone of your online business as it helps boost and safeguard your website ranking in SERPs.
The stronger your online presence, the more prominent your business will be, even if you just started.
Improved Conversion Rates
Conversion rate refers to the percentage of potential customers who land on your site after seeing an ad or your website in SERP, clicking on it, and taking the desired action. The desired action can be anything from signing up to a newsletter or purchasing a product.
The most successful businesses here in Hong Kong have expertly crafted websites that record-high conversion rates. Their SEO team works round the clock monitoring different campaigns to ensure that the set goals are achieved. You can join this select group of high performing brands by investing in the best SEO services.
Search engine optimised websites load faster, are easy to navigate, and surf. The content is displayed well on all types of devices, including tablets and smartphones. As a result, the target customers can quickly grasp the intended message and find what they are looking for in seconds.
It is also important to note that user-friendly sites grab the attention of the visitors automatically. Such visitors are more likely to become subscribers and loyal customers.
Create a User-Friendly Website
In the previous tip, we discussed how SEO helps to improve conversion rates. A user-friendly website is what you need to succeed in increasing the number of visitors who land on your website and convert. More qualified leads mean a consistent flow of revenue.
SEO services will help small businesses to create a smooth, faster, and user-friendly site that is consistent with the brand's goals and objectives. The traditional definition of SEO encompassed only optimizing websites and content for search engines. Today, SEO is broad and not only focus on optimizing the site but also improving user experience.
SEO experts have the skills and expertise required to create a clean, uncluttered, and easy to navigate website. The inclusion of visuals in the content will encourage visitors to stay longer on the site, reduce the bounce rate, and increase page views.
Link Building Service
As mentioned earlier, Google considers hundreds of factors when ranking websites. Most of these factors have never been revealed, but through continuous research, we can confidently report that websites with many links pointing to them (backlinks) rank better than sites with few links.
The links need to be done well to achieve optimal results. An excellent backlinking profile is what you need to get ahead of the competitors in terms of ranking, traffic, and customers. Most SEO service providers can publish guest articles with links to your site on multiple sites without contravening the stipulated Google's link building regulations.
Link building is not easy; it takes time to do thorough research and network with the right sites to publish the guest posts with your desired links. SEO experts spend hours every day scouting for usable websites for exchange. There are also conversant technical strategies that can be used to qualified leads to click on a product or link.
As a business, you can save time for your other equally important business obligations by hiring an SEO agency in Hong Kong whose service package includes link building. The agency has connections and a list of websites that they can use to exchange links.
Social Media Management Services
As we mentioned earlier, the modern-day SEO service does not just focus on optimising site content. It goes the extra mile to offer additional services that complement the service rendered. One such service is social media management.
Hong Kong has thousands of social media users. Here is a brief overview of the dominance of various social media platforms in the country.
Facebook 44.36%
Twitter 28.23 %
Pinterest 15.33%
YouTube 5.8%
Instagram 5%
Tumblr 0.45%
Source: Global Stat Counter
The SEO team in Singapore will develop a robust social media management campaign to help your business reach out to thousands of potential customers through social media. They will do this by regularly posting ads, updating information about your brand, and create viral marketing strategies. All these actions will boost your brand awareness efforts and create a cordial relationship with your target customers.
Just like link building, you cannot commit enough time to this project. Hiring an SEO team in Hong Kong to do it for you is the wisest thing you can do. The team will work tirelessly to ensure that you hit your targets in terms of clicks, shares, page links, page views, purchases, and much more. They are experts who know what works in the Hong Kong social media scene.
Superior Quality Content
You have come across this phrase, "Content is King." The success of any SEO campaign in Hong Kong is dependent on the type of content that you distribute and publish on your website. There is absolutely no reason to invest thousands of dollars on a fancy website without good quality content to support it.
Most of the SEO agencies have a team of adept SEO content writers who focus on writing on-site and off-site pieces for businesses. When you hire an expert to offer SEO services in Hong Kong, you will get excellent content that will be relevant to your business, the target audience, and laced with high-value keywords.
Below is a visual that shows how to infuse SEO in the content creation process.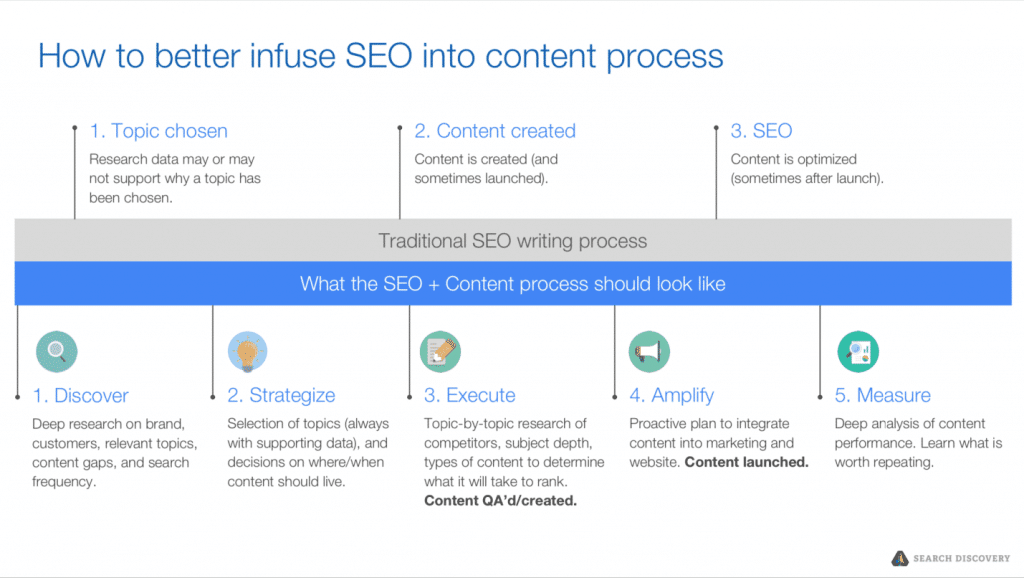 Source: Demand Sphere
The content will grasp the attention of potential customers and support your ranking in search engines. They will also update your website to catapult you to the first page of Google. Note that the wrong information can easily compromise the reputation of your brand.
Continuous Website Analysis
One of the main reasons why most business websites fail to achieve the expected results is the lack of analysis and reporting. The decisions made are not based on accurate data and market trends. An SEO team will cushion your brand from making wrong decisions in regards to your website by continuously monitoring it and giving you detailed reports.
The data collected from the analysis will be used to develop effective strategies for reversing the drop, thereby pointing your business in the right direction. Every aspect of the site will be scrutinised to identify plausible friction points that might be hindering customers from converting. The team will also help you to understand the website report before any changes are implemented.
Project Management Services
One of the differences between a professional SEO agency in Hong Kong and its counterparts is that when hired to offer SEO services, they apply a holistic approach to the process. They take over all the responsibilities associated with the project, thereby freeing up your schedule. With this team, you do not need to hire additional personnel to handle this specific aspect of your business.
Detailed Reporting
Before we proceed, it is essential to point out that SEO is a system; if one part of the system fails, the whole thing will collapse. One aspect of SEO is digital marketing. Robust digital marketing strategies will ensure your business reaches out to the target customers. The SEO team will work with the digital marketing department to come up with matching the two.
Their collaboration will involve detailed monitoring and reporting of each strategy to known if it is working. This information will help your brand to know which marketing strategies you should focus on and invest more in and which ones should be omitted.
The SEO experts will give you a detailed report of the number of page views, unique visitors, and clicks accrued by ads. They will also help you to know changes in traffic as a result of a new marketing strategy. All this information will help you to make the right decisions and invest wisely.
Here is an example of an SEO content quality report.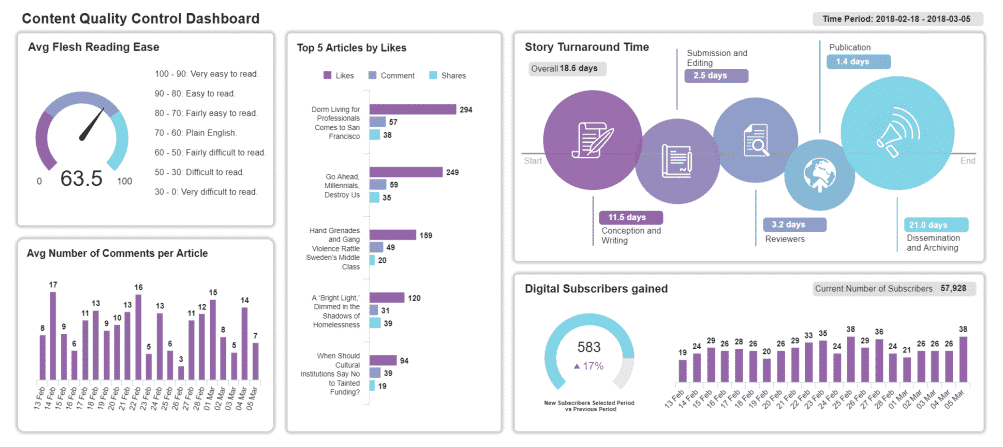 Source: Data Pine
It's Cost-Effective
One of the challenges of having an in-house SEO expert or team is that you have to adjust your budget to pay their salaries. Most small businesses operate on a tight budget and cannot afford to hire them. It is not cost-effective for them to have an in-house team.
Outsourcing the SEO services to a team of professionals makes economic sense. You will save money and time and, at the same time, save on office space. The large businesses can also benefit from a cut on their monthly expenditure on staff by hiring these professionals. It is also important to note that a professional team can deliver optimal results within a short period.
Competition Analysis
Most Hong Kong businesses fail to get a firm footing in their respective niches because they ignore what their competitors are doing.
For example, two businesses in the same niche and selling a similar product and have the same pricing structure have to do everything possible to snatch customers from each other. To do this, they have to find an edge over each other's business model. A properly structured and optimised site can get more leads than the other business with a poor website that is not responsive and user-friendly.
The Hong Kong SEO team will not only focus on optimizing your site, content, and other roles, but also do competition analysis. The analysis will help them understand your competitor's business model, strengths, and weaknesses. Armed with this information, they will be able to develop smart ways of ensuring that your site ranks better and generates more leads.
Establish a Robust Email Marketing Campaign
Email marketing has the highest conversion rate compared to other digital marketing strategies used by businesses in Hong Kong and across the globe. However, the campaign has to be done correctly for it to be successful.
Unknown to most people, creating an extensive emailing list is not enough. You need to ensure that the copy you send out is well-structured, accurate, and optimised. The SEO team will come in handy to help you create an ideal email marketing campaign that resonates with your business. This team will also write the copy, design, and insert Call-to-Actions, visuals, and links to the right landing pages.
Also, they will carry out A/B tests to determine the performance of the campaign. If a particular type of content does not perform, it will be tweaked to resonate with the target customers and objectives. All these actions will significantly help to ensure that your email marketing campaign is successful.
Below is a graph that shows the performance of email marketing when a coupon was added.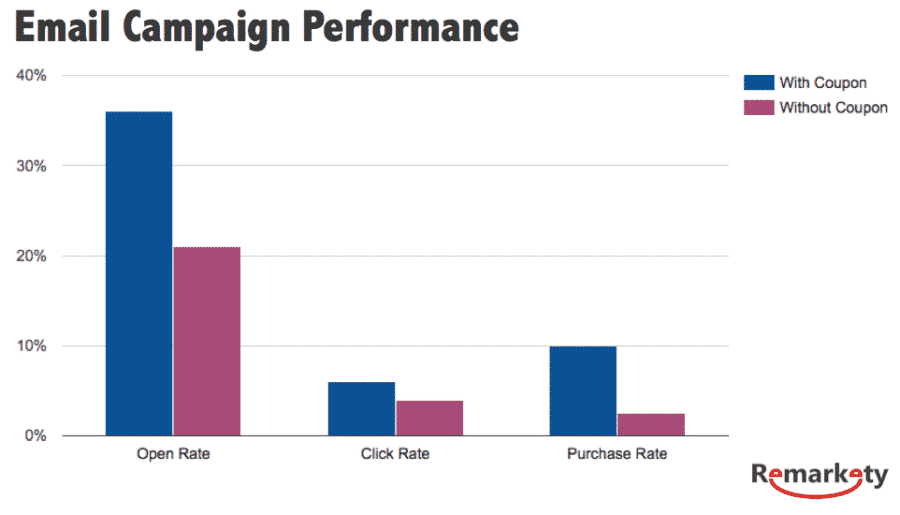 Source: Business2Community
Cushion you Against Google Penalties
Google algorithm is regularly updated to continue serving its sole purchase, which is to offer the best web results to users. Even as you strain to stay abreast of the changes, simple flaws in the implementation of an SEO strategy can wreak havoc if Google decides to penalize your website.
With a team of Hong Kong's best SEO agencies on your side, you will never have to worry about Google penalties. They will monitor Google algorithms on your behalf and make the necessary changes to your site. They will also check out your website for issues that could result in a penalty and correct them before Google strikes.
Knowing that a team is working behind the scenes making sure that your site is online and generating traffic, as well as leads, is what you need to realize your business's full potential.
Closing Remarks
These are the fifteen reasons why professional SEO services are essential to your Hong Kong business. SEO Hero is committed and determined to help you win by creating custom SEO strategies for your business. We will allocate enough resources to research, implement, and test the strategies to ensure the best results are achieved.
Get in touch with us for more details.