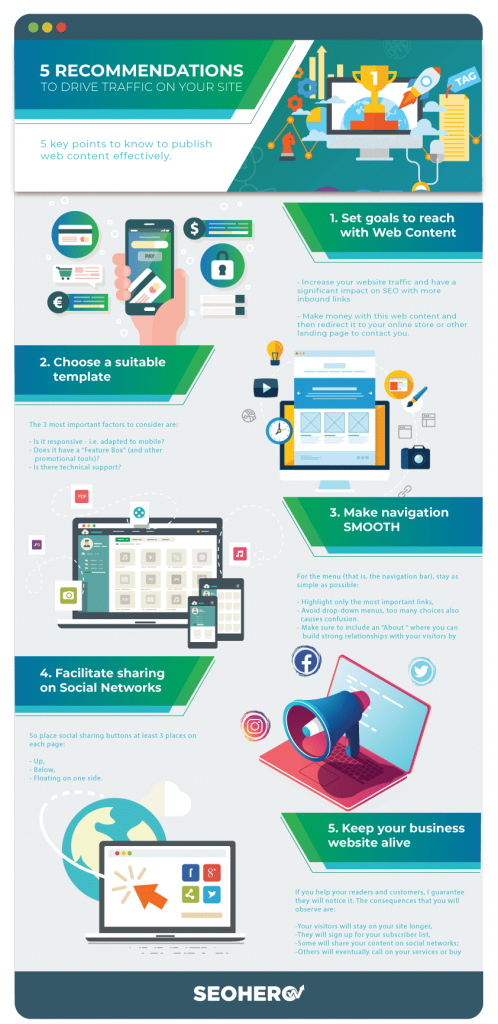 I imagine that you look daily at your statistics on Google Analytics. You're hoping for a sudden growth that finally shows you're on the right track. But like every day, your curve looks like a flat encephalogram. You have never thought that putting your site online was enough, and you think you have a site that works perfectly. You have also put in place a rather active social strategy, but that is not enough. Your site is a ghost town. What is missing? And what more must be done?
What is missing from your Digital Strategy?
We are all desperate for this little extra thing that will blow up your web traffic. But, we must face the obvious, the flow of visitors so much sought does not come from:
A social network in particular,
An advertising platform in particular
A particular CMS…
It would be best if you put all the odds on your side.
I do not want to discourage you but giving you more chances of success also requires more work. To achieve your goals on the Internet, start with a state-of-the-art website, and animate your business.
Do not ignore the power of Web Content.
If you've read me for some time, the statement in my title should not be a surprise to you.
Unfortunately, too many business leaders and even marketing managers still do not know what all the major influencers of the Net do every day: Content Marketing on the Internet.
And it works because a site with regularly updated content has more visitors.
Upgrading means not only publishing new content but also updating outdated content. Indeed, nothing more frustrating to land on a page whose content is obsolete.
Why are we going on the Internet?
It's a fact: people do not throw on their web browser for the sole purpose of buying your products or services.
They go there first because they are looking for information.
For this reason, the content on your website must:
First, provide the relevant information that people want to read,
And then, offer this information for free and without commercial bludgeoning.
Give to receive
Why did you upload your website?
Surely to highlight your offer of products and/or services that presents something new or better.
If so, position yourself as an expert. Maybe not on everything, but your niche, and if you are not yet an expert, look to become one.
How to do it?
Share what you learn. Share it for free and regularly, so your readers know when and where to find the information they want.
Over time, you will gather many potential customers aware of your product or service. Even if they are not ready to buy immediately, your brand will be anchored in their minds.
They can also be ready to share your content with others who may be buying faster, or even now!
Here are some statistics gleaned from the Internet:
81% of American consumers trust information and advice on the Internet (source: entity ID),
Companies that publish the most content get 97% more inbound links (source: Hubspot) Note: Inbound links or backlinks are among the most important SEO factors for Google's algorithm.
Companies that engage in Web Content Marketing generate 67% more leads (source: NewsMaster).
I advise you to keep in memory these 3 statistics to measure the power of web content properly. And pay close attention to lead generation.
Also, publishing content on your website, interacting on social networks, and all other Digital Marketing activities are increasingly important as your business will be more and more online.
Finally, with permanent content (or evergreen), all the efforts invested today in content marketing continue to bear fruit for many years.
Do not throw yourself in the mouth of the wolf without being prepared.
But do not think that publishing web content is easy. Of course, everyone can put some content on the web. But you want your content to be read and have a positive impact!
It is a job "seriously hard"!!
Besides, you have to be patient because you will not see the results immediately.
Nevertheless, there is good news. A good approach to Content Marketing greatly simplifies the rest of your Internet marketing efforts. No more struggling to find content to share on social networks. You have your content to promote to drive people to your site rather than a competitor or expert in your industry.
Besides, investments are really very light. It's essentially time. However, you need a lot, especially if you start.
Writing a well-researched article takes at least a few hours.
And if your company does not get the benefits in the more or less long term, or if you do not have the ability to commit resources in the long term, web content is not necessarily for you.
But like everything, success comes with its share of risk. So if you see an interest in publishing web content, then read on, and help you get started!
How to do better and differently
I retain 5 key points to know to publish web content effectively.
For this exercise, I suppose you run a website for a business even though these 5 points are also applicable for a personal blog.
First, avoid the debate around the choice of the publishing system – Content Management System (CMS).
I have always used WordPress, which is very simple and free? Besides, it offers tons of options if you want more customization.
Set goals to reach with Web Content
Before doing anything, define what you expect from your web content.
This will guide the choices you make next.
As an entrepreneur, you probably have one of these two goals:
Increase your website traffic and have a significant impact on SEO with more inbound links
Make money with this web content and then redirect it to your online store or another landing page to contact you.
Choose your main priority. Then make sure that every decision you make has a positive impact on that priority.
Choose a suitable template.
Design is not the determining factor in the success of your site.
You may be surprised to learn that too good design can also affect the acquisition of traffic.
I recommend you still invest a few hundred euros to buy a Premium theme.
The 3 most important factors to consider are:
Is it responsive – i.e., adapted to mobile?
Does it have a "Feature Box" (and other promotional tools)?
Is there technical support?
Note:a responsive design is essential today with the rules set up by Google.
Make navigation smooth
You will probably use the header and the top of your pages to highlight your brand with a beautiful image or logo that all your visitors will see.
Remember that the top of the pages is a strategic place on a website.
Indeed, it is the space that your visitors discover immediately. The more you force them to scroll down to find what they are looking for, the more likely you will lose a lot of the traffic.
You also lose the opportunity to use this place to include a call to action, a feature box, or any other important message. This is to keep your visitors a little longer.
For the menu (that is, the navigation bar), stay as simple as possible:
Highlight only the most important links,
Avoid drop-down menus; too many choices also confuses.
Make sure to include an "About " where you can build strong relationships with your visitors by telling your story.
Facilitate sharing on social networks
It must be straightforward for your visitors to share your content on social networks and find your profiles on these social networks (the famous "follow us").
So place social sharing buttons at least 3 places on each page:
Up,
Below,
Floating on one side.
Also, make sure links to your social profiles can be found in the header and footer of your site (if the design allows).
Keep your business website alive.
It may seem like a lot of work. You're right: running your site with content requires a lot of effort on your part before seeing the actual results.
And for that, nothing beats animating a company blog.
Statistics do not lie.
Your internet customers expect quality products and interesting information. So, differentiate yourself from your competitors by bringing them something different.
If you help your readers and customers, I guarantee they will notice it. The consequences that you will observe are:
Your visitors will stay on your site longer,
They will sign up for your subscriber list,
Some will share your content on social networks;
Others will eventually call on your services or buy your products.
And if your visitors notice, Google will notice it too. And by following a few rules, your positions in the result pages will inevitably go up, which will magically bring you more visitors.
All you have to do is have the will to get started on the web.
Decide first your goal, then start your digital presence.
By regularly publishing new content, you will build a strong relationship with your target customers. In the end, you have every chance to reap the rewards of your efforts.
If you have other tips and tricks to boost your Internet presence with live content, do not hesitate to leave us a comment…